Orcas Longhouse
from aptfinder.org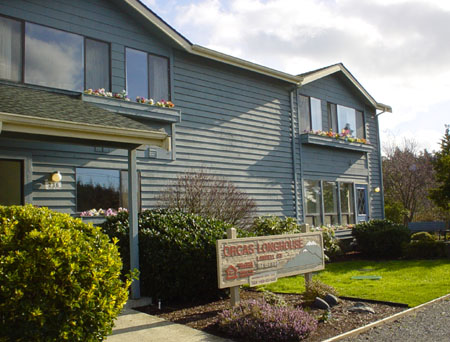 236 Prune Alley
Eastsound, WA 98245 (map)
San Juan County

Property Category:
Seniors/Persons with Disabilities
Properties for Seniors or Disabled Households
These properties have been financed and operate to serve seniors and persons with a disability. Often these properties have services and/or facilities that accommodate seniors or disabled persons. Most will have an age restriction for seniors of 62 years of age or older. Some properties may define their senior age as 55 or older. Please see the property listing for details.
At these properties, if you are not of senior age you must have a disability that meets the federal program requirements and be over 18 or emancipated to qualify. Only the head, co-head or spouse needs to qualify as senior or disabled at these types of properties. Other household members do not need to be disabled and may be of any age. .
Please be aware that the definition of disability can be very broad for most of these properties program requirements. You may qualify for a property with a disability restriction even if you do not consider yourself disabled or receive disability income.
Please call the MAIN CONTACT on each property listing for specific program or property eligibility.
Approximate Wait:
6 months to 1 year
Special Eligibility:

Very affordable housing for seniors 62 or older or disabled of any age.There is no direct subsidy at this low-income property but we gladly accept housing authority provided Section 8 vouchers to receive a subsidized rent.
Description:

Located on beautiful Orcas Island. Convenienty located in downtown Orcas Island- shopping, entertainment, restaurants etc.

Non-profit ownership- very affordable rent!
Main Contact

for Inquires and Application
Name:
Jeremy King
Phone:
360-376-2023
Title:
Manager
Fax:
360-376-2023
Company:
TDD:
1-800-833-6388
Address:
236 Prune Alley
Email:
orcas.longhouse@ad-west.com
Orcas Island, WA 98245
Website:
www.ad-west.com
Office Hours:
Tues 10-2

Management Contact
Name:
Ad-West Realty
Phone:
425-391-3937
Title:
Fax:
425-837-0693
Company:
Email:
info@ad-west.com
Address:
545 Rainier Blvd N. Ste # 9
Website:
www.ad-west.com
Issaquah, WA 98027
Program Type(s)
Properties that Accept Housing Authority provided Tenant-Based Vouchers
Properties that accept Tenant-Based Housing Authority Provided Vouchers
Properties in this category are private or publically owned properties that accept applicants with a Housing Authority provided Housing Choice Section 8 voucher or certificate. You must first have applied and received a voucher through your local housing authority program. You should contact your city or county Housing Authority directly for an application for their voucher/subsidy program.
All properties listed on our site that do not have Project-Based subsidy through another government program will take a Section 8 voucher. Vouchers are portable and transferrable because they stay with the household, not the property, once you move out of the property. Then you can take your voucher to a property that accepts them and receive a subsidized rent.
With a voucher or certificate, you will generally only pay 30% of your monthly household income for rent. Maximum rent amounts that the owner can charge are designated by the Federal Government and income limits apply. If an owner wishes to charge more than the maximum rent authorized by the housing authority, the tenant may be asked to pay all or part of the difference.
Please call the MAIN CONTACT on each property listing for specific program or property eligibility.
Other Non-subsidized Affordable apartments
Properties that offer Affordable, Non-Subsidized Apartments
Properties in this category restrict rents to below-market for qualified low-income applicants. These properties do not have Project-Based subsidy built-in, so your rent will not be subsidized unless you have a Housing Authority Section 8 voucher.
We list properties funded under Washington State Housing Tax Credit program; Washington State Tax-Exempt Bond program; Housing Authority owned properties, HUD Non-subsidized programs such as the 202 and 236 program, and privately owned non-government funded properties that accept Section 8 vouchers. Income limits apply when a property is funded under a federal or state low income program.
The rent and unit you will qualify for at these properties may depend upon your annual income level. These are called income set-asides. The property may have rent ranges, lowest to highest, but a family in a higher income level may not qualify for the lowest rent level. There may also be some other set asides at the property called occupancy set asides, such as for large families, disabled households or farm labor qualifiers. Properties with these types of set asides would give preference for rents and units to households that qualify.
Waiting lists can also vary greatly at these properties. There are often much longer wait times for the lower rent amounts and may be no wait at all for the higher rent amounts at the property. In addition, often your annual income level may determine which unit you will qualify for. This can also effect the time you may need to wait for a unit to become available.
Please call the MAIN CONTACT on each property listing for specific program or property eligibility.
Other Program Details:
Non subsidized USDA Rental Housing
Income Limit Category: Very Low, Low, Other
Income Limit Details: Very low to Moderate USDA income limits with preference for lower income limits.
Amenities

Cable TV Hookup

Carpet

Community Room

Garden Setting

Laundry Room on Property

Off Street Parking

Pet Friendly

Handicap Accessible Units
Property offers Wheelchair Accessible Apartments
These properties offer apartments that are accessible to persons in wheelchairs or have features desirable and useful to persons in wheelchairs or with mobility impairments. Some properties have apartments that are fully accessible and some have apartments that have been adapted to include accessible features. In accordance with the Fair Housing Act and ADA, all properties that are not specifically exempt will have common areas, pathways and offices that are accessible, or must make arrangements at the property to accommodate persons with mobility impairments. Accessible apartment features vary from property to property, but may include one or more of the following features:
Walk in showers or adapted bath tubs
Grab bars
Hand held Shower
Widened doorways and larger rooms
Lowered cabinets and countertops
Accessible countertops and sink
Accessible appliances
Levered door and faucet handles
Accessible switches and plugs
Lowered peep holes in doors
Hard flooring (non-carpeted)
Visible doorbells, smoke detectors, braille signage and documents

Please call the MAIN CONTACT on each property listing for specific accessibility features available at the property and in the apartments.
Other Amenities:
Very large community room