Vine Court Apartments
from aptfinder.org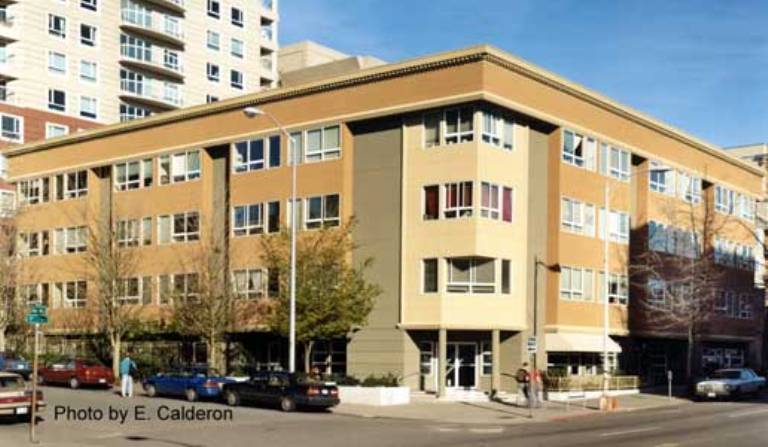 103 Vine Street
Seattle, WA 98121 (map)
King County
Seattle Proximity: Core - West of I-5
Property Category:
Properties for Individuals and Families
These properties have open eligibility in that they do not restrict occupancy to a particular age population (seniors) or disabled households. Most properties will require that the head of household be over the age of 18 or an emancipated minor. The number of persons in an apartment will be restricted to bedroom size, in most cases, and a few properties have set-aside certain units within their property for seniors and/or persons with a disability. Single persons, roommates, couples and families are welcome at these properties- unless otherwise indicated on the listing.
Please call the MAIN CONTACT on each property listing for specific program or property eligibility.
Approximate Wait:
No waiting list at this time
Availability Detail:

No waiting list. First come first serve.
Special Eligibility:


Affordable studios and one bedroom apartments now available in the heart of Belltown. Vine Court Apartments does not have directly subsidized apartments, but we gladly accept Housing Authority provided Section 8 Housing Choice vouchers.
Resident Qualifications
The following criteria must be met by potential residents: * Some exceptions or in-lieu-of criteria - call for details.

INCOME- All apartments have a maximum income limit so all sources of income must be disclosed and verifiable for all household members. Applicant household income must be at least 2.5 times the rent per month OR, applicants must have a residential history of having paid similar rent with similar income. Ability to document at least 90 days of verifiable employment.*
CREDIT- Total household debt cannot exceed annual household gross income. Any bankruptcy must be discharged.
PUBLIC RECORD- No criminal convictions in the last two years. No pending charges or felony convictions. No violent crimes or crimes involving weapons. No registered sex offenders. No controlled substance convictions.*
RESIDENT HISTORY- Past 12 months verifiable residential rental history. No prior evictions or unlawful detainers. No outstanding balance owed to any landlord. No current Three Day Notices to Vacate. No more than two legal notices in any twelve month period for any member of applicant household. Must be eighteen years of age or legally emancipated with proof of emancipation.
DOCUMENTATION- Valid driver's license or other government-issued picture identification. (Photo ID not required for minors). Social Security cards for all household members must be presented at application. (If Employed) Most recent pay stub from employer
Description:


Modern studios in a quiet, friendly building. Affordable studios now available in the heart of Belltown!

The Vine Court Apartments, at the corner of 1st and Vine, is just steps away from the Seattle Center, Pike Place Market, the waterfront, and so much more!!

Our features include:
> Convenient Belltown location
> Fully Equipped Studios with dishwashers
> Near the Bus Line
> Secured Intercom Access
> Building Manager & Maintenance Staff
> Onsite Washers & Dryers
> Elevator Access

To qualify your maximum annual household income must be no more than the annual income cap for the specific apartment you are applying for. If you are not on a current lease you must be with your employer at least 6 months. To apply go to our website at www.bellwetherhousing.org on the home page, go to "find an apartment search", enter your income information and it will bring up any units you qualify for. Email the resident manager if you are interested in viewing the unit. We can't take an application until you have seen the unit. Feel free to call the resident manager for more details or if you would like to set up a viewing by phone.

STUDENTS- Applicant households where all members are full-time students are eligible at the Vine Court Apartments.
Main Contact

for Inquires and Application
Program Type(s)
Properties that Accept Housing Authority provided Tenant-Based Vouchers
Properties that accept Tenant-Based Housing Authority Provided Vouchers
Properties in this category are private or publically owned properties that accept applicants with a Housing Authority provided Housing Choice Section 8 voucher or certificate. You must first have applied and received a voucher through your local housing authority program. You should contact your city or county Housing Authority directly for an application for their voucher/subsidy program.
All properties listed on our site that do not have Project-Based subsidy through another government program will take a Section 8 voucher. Vouchers are portable and transferrable because they stay with the household, not the property, once you move out of the property. Then you can take your voucher to a property that accepts them and receive a subsidized rent.
With a voucher or certificate, you will generally only pay 30% of your monthly household income for rent. Maximum rent amounts that the owner can charge are designated by the Federal Government and income limits apply. If an owner wishes to charge more than the maximum rent authorized by the housing authority, the tenant may be asked to pay all or part of the difference.
Please call the MAIN CONTACT on each property listing for specific program or property eligibility.
Income Limit Category: Very Low, Low,
Income Limit Details: Serving households earning below 65% of area median income. Actual income limit varries by apartment. Section 8 vouchers are welcome!
Amenities

Cable TV Hookup

Carpet

Dishwasher

Elevator

Non-Smoking Property

Laundry Room on Property

Pet Friendly

Utilities Included

View

Proximity to transit:
Under 1/4 Mile
Background Screening Information
Accepting Comprehensive Re-usable Tenant Screening Reports

Not Accepting Comprehensive Re-usable Tenant Screening Reports

Screening Information and Cost (If Any): ____
A comprehensive re-usable tenant screening report (portable report) means a tenant screening report, prepared by a consumer reporting agency at the direction of and paid for by the prospective tenant, and made available directly to a prospective landlord at no charge. Reports are re-usable for 30 days for multiple landlords.
In accordance with Senate Bill 6413 effective 6/9/2016, landlords have the option to either accept or not accept portable reports, and the landlords decision must be included in the landlord's posted rental criteria.
If the landlord indicates its willingness to accept a comprehensive reusable tenant (portable) screening report, the landlord may access the landlord's own tenant screening report, regarding a prospective tenant, as long as the prospective tenant is not charged for the landlord's own tenant screening report.
Bedroom Sizes and Rent Structure
These rent amounts are generally the lowest and highest rents currently reported at this property. Please call the main contact listed above for details and requirements.
# of Bedrooms

Rent Range

# of units
Studio
$737

-

$969
49 Unit(s)
1 Bedroom
$792

-

$1500
6 Unit(s)
| | |
| --- | --- |
| Total Units: | Directly Subsidized (Project-Based) Units: |
| 55 Units | 0 Units |
Rent Detail: Vine Court Apartments does not have directly subsidized apartments, but we gladly accept Housing Authority provided Section 8 Housing Choice vouchers.


This Page was Last Updated February 09, 2015